Motete's founder Velia Vidal and guests at a group reading event in 2019.
How Corporación Educativa y Cultural Motete is Supporting Students in Chocó during the Pandemic
By Daisy Muñoz, Tinker Foundation graduate intern
The Corporación Educativa y Cultural Motete (Motete) promotes cultural and educational activities for children and adults in the Colombian department of Chocó, on the Pacific Coast of the country. Chocó is known for its Afro-descendant population, which comprises 80% of its inhabitants. In addition to its rich history and culture, Chocó has abundant biodiversity, and its flora and fauna stretch across its vast jungle, rivers, and beaches.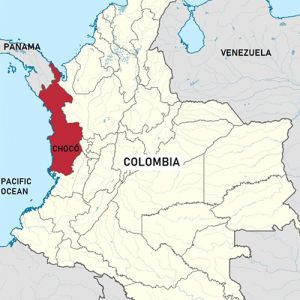 Chocó's expansive jungle has also been a haven for guerrilla and paramilitary groups, and since the early 1990s, violence has affected the daily lives of the region's people.
The 2016 Peace Accords provided some optimism for the future and the reduction of violence opened spaces for civil society to focus on the region's development. Motete, one of those civil society organizations, has helped propel the community forward with film festivals, book fairs, and art exhibitions that spotlight Afro-Colombian and Indigenous artists and creatives. Central to Motete's mission is that cultural education can promote critical thinking, active citizenship, and creativity, critical for a community healing from post-conflict trauma.
In September 2020, the Tinker Foundation awarded Motete a grant to support its Selva de Letras program, which seeks to improve early grade literacy. During the pandemic, Motete has adapted the program to create accessible learning materials for students and their families, most of whom do not have internet access. In December, Tinker spoke with Motete's founder and executive director Velia Vidal about the organization's work. We discussed the organization's history, its future, and its focus on literacy education for the children of Chocó during the pandemic.
Tell us how Motete got its start.
Velia: Over five years ago I had an epiphany. I realized my life's calling was to introduce children to reading and literature. I left my job with the city government of Medellín (Colombia's second-largest city), about 143 miles away, and came back to Chocó, where my family and I are from. Although I was a successful professional in Medellín, I felt that I wanted to get to know Chocó even more, to be here, and to give back to my community. I began to volunteer and read to children in neighborhoods with little access to books or reading spaces. I set up camp on the sidewalk of the neighborhood's main corner. The first time, four girls listened to my reading. The next time, over 30 children showed up. The reading hour became very popular, and I quickly realized I had to create a more structured program. I teamed up with friends of mine who are educators, and we established a reading hour at the library of the Universidad Tecnológica del Chocó in Quibdó (Chocó's capital). This initiative grew rapidly, and my team and I regrouped yet again, and that is when Motete was born. Motete is a basket woven out of natural fibers. I thought it was a fitting name. A basket holds items, like the community we all hold together by working collectively, interwoven as it were.
To get Motete off the ground, we rented a commercial space that would serve a dual purpose: a coffee shop and a cultural venue with a free library. The goal was to cover the rent and maintenance costs with the revenue generated by the coffee shop sales. We began our cultural venture by hosting book readings, movie viewings, and live music. As we grew, we started hosting annual book fairs, film festivals, and art exhibitions. As you can imagine, coffee and pastry sales were not enough to cover our expenses. We were so naïve! To raise funds, we had to take loans from our relatives and then began applying for grants.
When the pandemic struck, virtual learning was implemented nationwide, but in Chocó, online learning presented a particular challenge. Most residents have minimal access to the internet and many parents and caregivers lack the digital literacy required to assist children with their online lessons. Additionally, some of the printed study guides distributed to children did not distinguish between grade levels and contained instructions that required internet connections and adult help. Aware of the circumstances in her community, Velia returned to reading books in public spaces. Accompanied by a portable sound system, Velia read to entire blocks as residents listened from the safety of their homes. Velia knew children needed more structured support, so Velia and her team got to work to develop a new approach.
What is Selva de Letras?
Velia: We know most of the children in our community do not have a computer at home or internet access on their family's mobile devices. In addition, many of our best and most dedicated teachers do not possess the digital literacy to teach a class online or to type a learning guide in a word processor. The program Selva de Letras is going to address these challenges with the support of the Tinker Foundation. We are designing easy-to-use learning modules for teachers and parents with a grade differentiated approach. Equally important, students can use each module offline or online, and we are incorporating images and texts reflective of Chocó's Afro-descendant and Indigenous cultures. Motete will invite 540 teachers and parents to receive training to learn how to integrate technology into the learning process and help students use the learning modules. This funding also allows us to expand Motete's volunteer teacher corps to 42 individuals who will provide 1:1 follow-up with families and students. In addition, we are creating two classrooms to provide safe learning spaces for students whose parents and caregivers work in the informal economy and cannot assist their children at home. Within these classrooms, the teachers and students will follow strict social distancing and safety protocols to ensure that our community remains healthy. In total, Selva de Letras will reach 420 students in grades K-5.
Why the name Selva de Letras? (Selva de Letras translates literally into the jungle of letters or words.)
Velia: We live in the jungle. Throughout many decades the jungle has been associated with the war. The jungle has meant fear and has marked our lives with terror. We want to take back our jungle; it is our home. We want it to mean something positive again. We imagine our jungle full of trees with meaningful words and sentences as the leaves.
What does Motete hope to accomplish in the next 12 months?
Velia: We hope to create very meaningful and long-lasting relationships with the teachers and families with whom we will be developing Selva de Letras. In addition, we fervently wish that students can catch up on this year's missed school lessons. This is imperative since the Ministry of Education announced that they are still uncertain if/when elementary school students will return to the classroom in 2021. We also wish our two classrooms become a place of refuge for any student who seeks guidance and company. Friendship and companionship are the heart of educational institutions.
Learn more about Motete by visiting Facebook, Instagram, and YouTube.
SPANISH
La educación virtual sin acceso al internet
La historia de Motete y su visión para la educación de las niñas y niños del Chocó durante la pandemia
La Corporación Educativa y Cultural Motete (Motete) promueve actividades educativas y culturales en Quibdó y Bahía Solano en el departamento del Chocó, situado en el Pacífico colombiano. El Chocó es conocido en Colombia por su predominante cultura afrocolombiana, ya que más del 80% de la población del departamento es afrodescendiente. Además de la rica cultura e historia, el Chocó también posee una gran biodiversidad. Sus mares, ríos, playas y selvas son hogar a una abundante variedad de flora y fauna, muchas de estas oriundas de la región.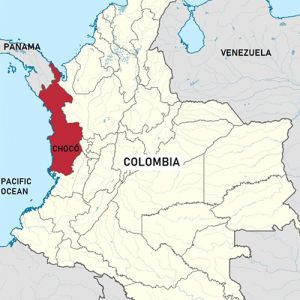 La extensa selva del Chocó también ha sido un refugio para grupos guerrilleros y paramilitares, y desde principios de la década de 1990, la violencia ha afectado la vida cotidiana de la población de la región. Los Acuerdos de Paz de 2016 ha permitido cierto optimismo para el futuro y en los últimos años la reducción de la violencia abrió espacios para que la sociedad civil se concentrará en el desarrollo de la región. Motete, una de esas organizaciones de la sociedad civil, ha acompañado a las chocoanas y chocoanos en su visión del futuro con la presentación de festivales de cine, ferias literarias y exhibiciones de arte, siempre destacando artistas afrocolombianos e indígenas. Central de la misión de Motete es que la expresión cultural y la educación promueven el pensamiento crítico y la creatividad, y ayudan al crecimiento de ciudadanas activas en su comunidad, características imperativas para una población que está superando los traumas de la guerra.
En septiembre del 2020, la Fundación Tinker le otorgó a Motete una subvención para la ampliación de su programa educacional Selva de Letras, cuyo enfoque es la alfabetización de niñas y niños de primaria. Durante la pandemia, Motete ha adaptado el programa para crear materiales educacionales para estudiantes y familias que se pueden acceder sin conexión a internet. En diciembre, hablamos con Velia Vidal, directora y fundadora de Motete. En nuestra conversación discutimos cómo nació Motete, los planes para el futuro y la situación de la educación en el Chocó durante la pandemia.
Cuéntanos como se originó la Corporación Motete. ¿Qué significa Motete?
Velia: Hace más de cinco años tuve una epifanía. Caí en cuenta que mi llamado profesional era enseñarle a niñas y niños acerca de la literatura. Todo transcurrió así: dejé mi trabajo en Medellín para volver aquí al Chocó de donde somos mi familia y yo. Regresé porque sentía que se lo debía al Chocó. Le debía conocerlo más, viajar más y servir a mi comunidad. Con esto en mente, cuando estuve de vuelta en Quibdó, comencé a leer libros en una esquina de un barrio donde sus habitantes tienen poco acceso a bibliotecas y espacios culturales. La primera vez que fui a leer en una esquina, cuatro niñas me escucharon. Cuando fui la segunda vez, más de 30 niñas y niños fueron a escucharme a leer. Mis horas de lectura se volvieron inmensamente populares en el barrio y me di cuenta de que tenía que diseñar un programa más estructurado. Junto con amigas y amigos que son docentes, organizamos una hora de lectura en la biblioteca de la Universidad Tecnológica del Chocó. Este proyecto igualmente creció con mucha rapidez y ahí fue cuando decidimos que teníamos que crear lo que hoy es la Corporación Educativa y Cultural Motete. Motete es una canasta tejida con fibras naturales. El nombre viene del hecho de que una canasta sostiene cosas, de la misma manera que nosotras ayudamos a sostener a la comunidad, trabajando juntas, como las fibras de una canasta que están entrelazadas.
La idea era arrendar un local que sirviera de cafetería y de centro cultural y biblioteca. Con los ingresos de las ventas de la cafetería pensábamos pagar el arriendo y los gastos de mantenimiento del local. La operación cultural de Motete comenzó con lecturas de libros, exposición de películas y exhibiciones de arte. Pero como te puedes imaginar, ¡las ventas de la cafetería no fueron suficientes para cubrir todos los gastos! ¡Fuimos muy ingenuas! Para continuar pagando los gastos nos tocó pedirles préstamos a nuestros familiares y comenzamos a pasar solicitudes para subvenciones.
Con la llegada de la pandemia, todas las instituciones educativas en Colombia se trasladaron a la enseñanza virtual. Sin embargo, en el Chocó la educación virtual presentó varios desafíos debido a la falta de conexión a internet de muchas familias al igual que la falta de conocimiento tecnológico por parte de la mayoría de las madres, padres y docentes. Adicionalmente, algunas guías de enseñanza que fueron ofrecidas de forma impresa no eran pertinentes de acuerdo con el grado y muchas requerían la ayuda de un adulto o del internet para poderlas completarlas. Al ver las circunstancias de la comunidad, Velia volvió a la esquina a leer, y esta vez se fue armada con micrófono y altavoz. De esta manera Velia le contaba cuentos a una cuadra entera mientras las familias escuchaban desde sus casas garantizando el distanciamiento social. Pero Velia y el equipo de Motete sabían que las niñas y niños necesitaban alfabetización más metódica así que readaptaron Selva de Letras.
¿Que es Selva de Letras?
Velia: En Bahía Solano y Quibdó tenemos limitaciones para llevar a cabo exitosamente la educación virtual. Para empezar, la mayoría de las familias no tienen un computador en sus casas o conexión a internet por medio del celular. Por segundo, tenemos a madres y padres de familia que no saben cómo utilizar un computador, al igual que muchas de nuestras profesoras quienes llevan décadas enseñando sin usar estas tecnologías. Para contender estos desafíos, con la ayuda de la Fundación Tinker hemos diseñado guías estudiantiles que van a ser fácil de usar y van a tener diferenciación de grados. Adicionalmente, los textos e imágenes de cada guía representaran al Chocó, van a reflejar la presencia de nuestra cultura afro e indígena. Las guías también podrán ser usadas en ambas circunstancias, con o sin conexión a internet. Motete también va a abrir 540 cupos para docentes, madres y padres de familia para participar en la capacitación para el uso de computadores en la enseñanza de las niñas y niños. La subvención de la Fundación Tinker también nos permitirá extender nuestro cuerpo de voluntarios. Tendremos 42 docentes quienes estarán haciendo chequeo a cada estudiante durante el año escolar del 2021. Por último, montaremos dos salones que serán 100% bioseguros para que las hijas e hijos de familias que trabajan en la economía informal puedan recibir ayuda de un adulto ya que sus familias tienen que trabajar. En total, el programa Selva de Letras va a ayudar a 420 estudiantes de kínder a quinto de primaria.
¿De dónde nace el nombre Selva de Letras?
Velia: Vivimos en la selva. A lo largo de muchas décadas, la selva se ha asociado con la guerra. La selva ha significado miedo y ha marcado nuestras vidas de terror. Queremos recuperar nuestra selva, es nuestro hogar. Queremos que vuelva a significar algo positivo. Imaginamos nuestra selva llena de árboles con palabras y frases significativas para las hojas.
¿Cuáles son las metas de Motete en los próximos 12 meses?
Velia: Esperamos crear buenas y sólidas relaciones con las familias con las que vamos a desarrollar Selva de Letras. También tenemos la esperanza de que las niñas y niños se puedan poner al día académicamente después de este año tan difícil que han tenido. Esto es primordial ya que el Ministerio de Educación ha dicho que por ahora no hay planes de retorno a las aulas para el 2021. Por último, esperamos de todo corazón que los salones bioseguros sean no sólo salones sino sitios de refugio para cualquier estudiante que necesite una guía o compañía. La amistad y la compañía son la razón de ser de las instituciones educativas.
Para aprender más acerca de Motete, visita la página de Facebook, su perfil de Instagram o su canal de YouTube.